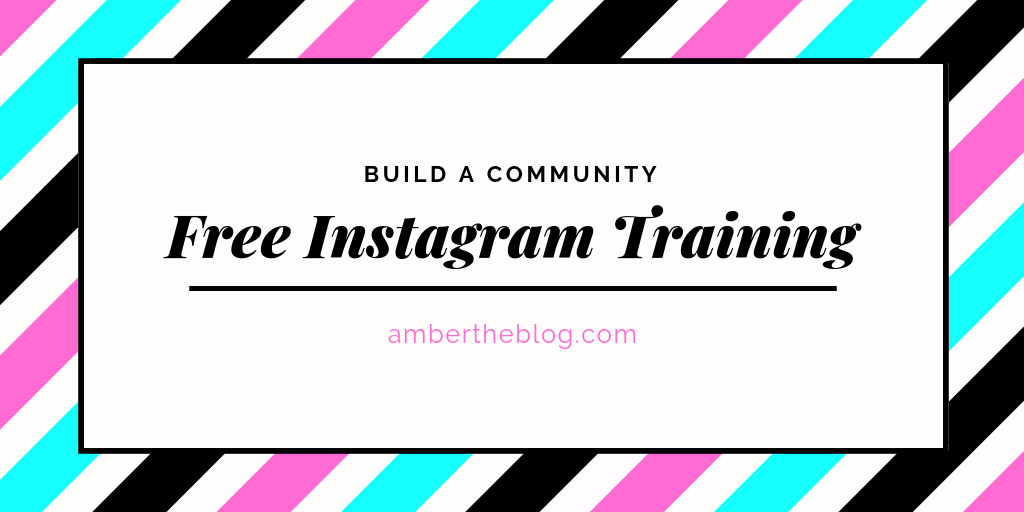 Instagram is the premier platform for growing your tribe. Learn how to excel here!

Did you miss Part 1 or Part 2? Click the links to read the first eleven tips! 
This is the final post to wrap up these tips, so let's get right into it.
12. Use a business account. 
Yes, I know. I didn't want to switch from a personal to a business account, either. But the benefits to having a business account versus a personal are too valuable to ignore. If growth in your field is the goal, then utilizing a business account is going to be the most profitable. 
By using a business account, you can use the available tools built right into the platform to see what engages your audience the most.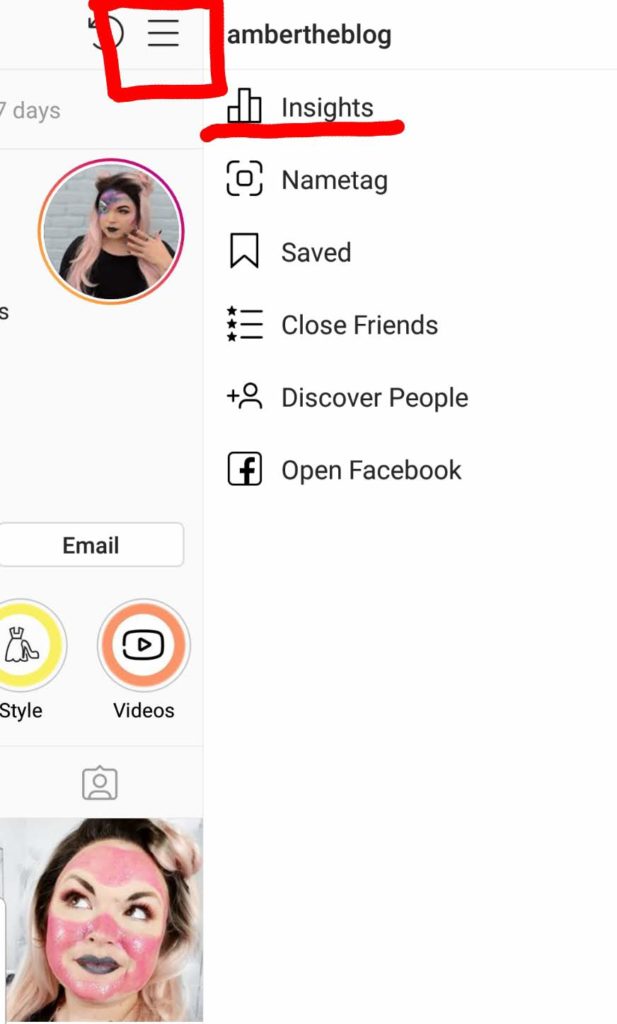 To do this, click the menu button at the top right of your profile page (the one that looks like three lines). Once you open the menu, you will have access to the "Insights" page. (Keep in mind, this is only available for business accounts.) 
This will show all of your posts from the year, sorted by those with the most engagement at the top. As you can see in my example, the posts with most interactions (a combination of likes and comments) were images involving beauty and makeup looks. That means that my tribe prefers these posts by preference. With that knowledge, I can now deliver more of what audience likes! 

By utilizing the free tools available to business accounts, you'll be able to optimize your instagram to attract your tribe. 
13. Define your niche 
This one is the most difficult for me! I'm a jack-of-all-trades. There's hardly a thing that I don't enjoy pursuing and learning about! But if you are going to have a successful instagram, you are going to need to use some self-control and keep it on topic. (I'm preaching to myself the most!) It's hard to narrow your topic down when you don't know what you want. (More on that in the next point.) But once you know what you want to accomplish, you will know better what to share.

For example, if you want to build a tribe of people who love to sew, sharing images of your makeup looks won't unite those people into a common purpose. If you have a lot of things to share that are in topics that aren't laterally related, you can have more than one instagram! For example, I have a beauty and brand instagram, a personal instagram, a cosplay instagram, and an art instagram. While some of my followers might like all of those things, most people enjoy only one of those at a time. By dividing up my topic among those different accounts, I've helped tailor my content to my tribe's need and interests. 
14. Define your purpose
This is probably the most important aspect of all this training because it will be the north star of everything else you do. If you don't have your purpose clearly defined, it will show in your feed. 

Ask yourself,

a. What am I passionate about?
b. What do I want people to know?
c. How can I help in a way no else quite can?
d. What would my friends say is my soap box?
e. Who and what do I care most about?
f. What are my unique talents and interests? and How do they fit into my passions?
g. What do I want to do?

The last one is very important. You will never succeed at something you do not want to do. Your desire can be a guiding light to what you are meant to do. In Proverbs, we are told that our desires are placed their by our Creator. Wisdom is knowing the difference between innate desire and aimless lust. For example, you might desire a inspiring and creating healthy relationships. An aimless lust would be to make a lot of shallow friends, or to aim to have many people like you. It might seem like it temporarily fulfills your desire for deep and rich relationships, but in the end, it isn't what you meant to have. Knowing your innermost desires intimately is the key to ignoring to wasteful wants. 

You will never succeed at something you do not want to do.
15. Pimp your profile
Now that you have the meat and potatoes of your purpose and niche, you can finally get your profile prim and polished. So what makes a great profile? 

Go to some of your favorite successful bloggers. While each has their own style, you will find some common building blocks that appear on each page. 

a. Heading and niche in title
b. Purpose statement
c. Expected content
d. Call to action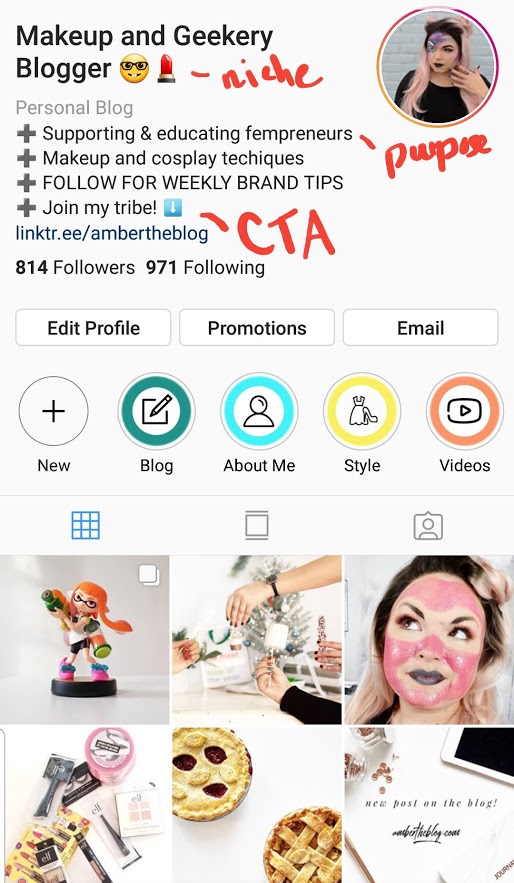 A. Heading and niche
Your account title will automatically default to the name you provided instagram at account set up, but you can change these easily in your profile settings. You can include your name if you wish, but definitely include content keywords. The name bar is searchable, so whenever someone is looking for makeup, my account will be somewhere on the list. It is also beneficial to help people associate your name with content. 
B. Purpose statement
My purpose is "supporting and educating fempreneurs." I want to help women feel confident about themselves, whether that's how to apply the perfect lipstick or learning how to pimp their instagram. Make a concise, one-line purpose to help guide your content and attract your audience. 
C. Expected content
What do you plan on posting to meet your purpose? What kind of posts can your followers expect? This is as beneficial to you as it is to your tribe. 
D. Call to action
What do you want people to do, and what can you offer them? Direct them to a link to fulfill this action. Since instagram only let's you have one link, I highly recommend Link Tree. Link Tree basic is free, allows you to have unlimited links, and is easy to use. 
The same rules apply for links as the rest of your instagram. This is not place to link to my illustration portfolio. Everything here is related to my business. That might change in the future, but it is easy to edit and it updates immediately. Keep your links clutter free, on topic, and up to date. 
And that's it! 
Way to go! If you follow these 15 tips, you'll be well on your way to a better, more brilliant tribe of engaged followers on instagram. 
Have questions? Comment below. Want to join a tribe of supportive women? You're welcome to join the club! 
Toodle pip!