This post may contain affiliate links. For more on that, check here
There are a lot of instant photo options in the market nowadays. From the most popular Instax Mini with it's array of colorful accessories, to the new HP Sprocket that connects to your smartphone. In a digital age where most of our photos are looked at from a screen and stored away often never to be seen again (at least until Facebook or other social media platform reminds us of throwback days), printed photos are regaining their appeal. And there's good reason.
I can still spend a good hour looking through my grandmother's many photo albums. I own only a few photo albums, and all from my childhood, but the memories they bring back are fond, and the pictures are often humorous and endearing. In this digital age of social media, we cull through numerous photos and take many more until we get "the one." In the days of film, you often had no idea what the result would be until you picked up the packet of images from the photo department.
And the allure is stronger with old-fashioned instant cameras like the Polaroid. You get just one chance to capture a single moment that can never be replicated. Instant cameras are a piece of magic.
But like in many fields, there are so many options, it's hard to make a buying decision. I am not particularly loyal to brands, mostly because this is a field where I have little experience. Polaroid has made its name synonymous with the square format print, but does that mean it is the best option? I wanted to find out.
The Contenders
Original Polaroid One Step Land Camera
I used Color 600 film paired with the neutral density filters. Because the 600 film is more sensitive to light than film meant for the OneStep, the neutral density (ND) filter reduces the amount of light the camera allows in so that your photos are not over-exposed (that sun bleached look). You can use the SX-70 film, but it was not available in time for me to do this review.
Ease of Use: ★★★★☆
The Original OneStep is very simple. You insert the film cartridge, hold down the shutter to eject the protective covering, and you are ready to start shooting. The only thing that makes the original OneStep difficult to finagle is its bulk. It's odd size and shape make it impossible to simply slip into a purse and be on your way to capturing memories. But for taking instant photos, it could hardly be easier.
Functionality: ★★☆☆☆
Not surprising at all, this camera has very little features. It takes photos. It has a flash. I could not figure out if the flash could be turned off. (There was no manual with my ebay purchase.)
Accessories: ★★★☆☆
While retro and not currently manufactured, the availability of accessories for this little guy are prolific. In its prime, Polaroid produced several different types of accessories, mostly flashes of some sort, that improved (or were marketed to improve) the quality of the images. Carrying cases, storage cases, and film are quite easily come by, though they are not necessarily inexpensive. And since the accessories are no longer in reproduction, you have to rely on third party resales to obtain them. Surprisingly, I was able to find more accessories for this camera than the other two tested.
Photo quality: ★☆☆☆☆
This old guy has perhaps seen better days. Whether it is an issue of needing a refurbishing, I don't know. But the results were murky at best, garbage at worst. In the photo above, the original camera tests resulted in row 1 image 2 and row 2 image 1.
Overall: ★★☆☆☆
Summary: With the many instant print cameras out there, don't bother spending your money on a retro model – unless you enjoy having a camera to refurbish.
The new Polaroid OneStep2 has just enough retro charm and functionality to make me want to purchase it just by looking at it. (Is that just me?) It has several different color options (I bought Sky Blue, but there is also classic white, and even a Stranger Things limited edition)
Because this is the next generation of Polaroid's OneStep series, I want to get into some comparisons before we get to the rating. (If that doesn't interest you, you can scroll right down to the stars!)
I found the two cameras to be very similar in size. I expected having the shutter button beneath the much improved larger flash might lead to having stark finger shadows, but that never happened. It did take me forever, though, to figure out where my film indicator was. All other instant print cameras I have used have the scrolling number wheel somewhere on the back of the camera housing. It took me looking it up in the manual (duh) for me to realize that those little dots on the top of the camera are LED lights that indicate the amount of film left. I think that is a nice touch, once you know its purpose.
Having the button on the front also made taking selfies really easy considering the cameras bulk. And the USB charging is an upgrade that certainly makes it more sustainable (retro film packages include a battery to run the camera) and ensure you always have a well-powered flash. Overall, a very nice, recognizable upgrade.
Ease of Use: ★★★★★
Whether taking a selfie or a group photo, indoor or outdoor, flash or no flash, the OneStep2 was simple to manage and understand (aside from my LED film indicator mystery mentioned above). It was honestly just fun to use.
Functionality: ★★★★☆
With its USB charging and the ability to turn off the flash, this little camera already has more than one leg up on its other instant camera competitors.
Accessories: ★★★☆☆
Even though its accessories are more up to date than the those of its retro predecessor, they are few and more pricey than other brands, like Fuji's instax series. Your choices of accessories are limited. The strap is exactly the same strap as the original OneStep, a thin band that will rub your neck raw, although it can actually be removed and replaced with almost any other neck strap, which you would want to do. (Unless turtlenecks and protective ascots are your thing. You do you.)
Photo quality: ★★★★☆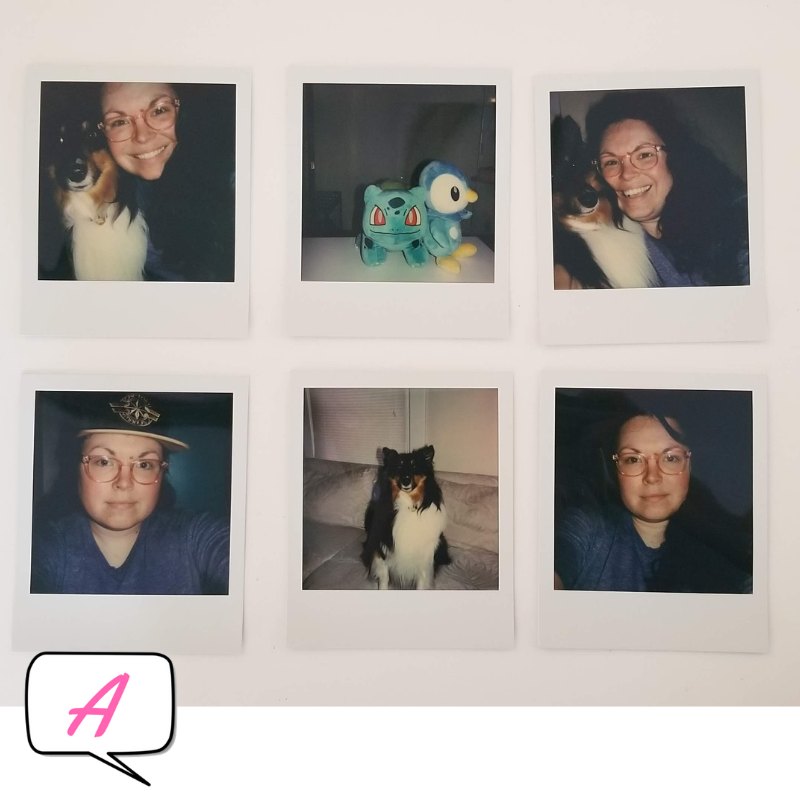 For instant print cameras, Polaroid really does have the winning combination. The colors, while off from what our eyes see, read very clearly once developed. If you want something closer to what the naked sees, your cell phone will take better photos. But instant cameras are an entirely different realm, and in this arena, Polaroid is king. The images included crisp, clear details from different shooting distances and selfies equally.
Overall: ★★★★☆
This was so close to five stars. There were a few things I liked better on the next camera that I would like to be able to Frankenstein together for the perfect instant camera, but ultimately, those little things come down to personal preference. If you like the look and excitement of what Polaroid prints have to offer, you won't be disappointed with this camera.
This is the camera that I started out assuming would win. The SQ6 has more features than any other instant camera in its price range. It's design and shape make it preferable to taking it with you and capturing memories on the go.
Ease of Use: ★★★★★
This camera was the easiest to use in multiple ways. It has two shutter buttons, one on the top, and one on the front which is optimal for taking a selfie. And when it comes to selfies, the mirror on the front of this little guy makes it possible to make sure everyone is in the shot. (But seriously, don't try getting a selfie with more than three. There will not be room. Unless you enjoy the "crammed too many in a photo booth" look.)
Because of its slim design, it hung flat against my body and was even able to slide into a medium purse. Of the three, this was by far the more portable design.
While I did give it five stars, the SQ6 did have one annoying hang up: the viewfinder is on the right hand side. That seems like such an odd thing to nitpick, but when every single camera I have held in my hand (which is a stinkin' lot) has the viewfinder on the left or in the center, trying to use a viewfinder on the right hand felt like I was trying to write with my non-dominant hand. I'm certain this is something anyone could easily adjust to, but it may throw you off. It certainly did me, as well as anyone I handed it to.
Functionality: ★★★★★
Out of every camera I tried, this one had more ways to use than your simple point and shoot. Take a look at the back of the camera again and see for yourself all the different shooting modes.
This camera gets you the most for the price. In fact, the only downsides I can think of are 1) I just wish the prints were larger, and 2) it uses disposable batteries. The USB features of the OneStep2 just feel right with everything else that I have that is compatible. I hate trying to remember what type of battery each electronic takes. Come on, Fujifilm, this is 2020, not 1992. That being said, the camera is functionally top of the line in its price range.
Accessories: ★★★★☆
The line of Fujifilm Instax cameras have been established for years, and with that, an assortment of different accessories have been produced. From photo albums, locker or fridge magnet frames, neck straps, cases, and more, there is something to personal your Instax experience to your liking. However, there are fewer accessories for the SQ6. Most of the Instax accessories are for its Mini series of cameras.
Out of the box, the SQ6 has a premium neck strap (complete with padding) and even colored flash gels. I was really excited about the inclusion of gels. These flash gels are more superior than those flimsy little strips of color plastic film like most gels. These are durable plastic clip-ons that attach right over the flash and are thick enough to not be blown away or lost in the depths of a camera bag or purse.
Photo quality: ★★★★☆
The SQ6 takes square format images, much like the beloved Polaroid. However, SQ6 prints much smaller images.
When at the optimal distance, the pictures were crisp. However, in order to get a good selfie, you have to remain very still. While in the photo above it looks fine, in person the Polaroid has much sharper details. (But to be fair, I did not use Selfie mode on the SQ6 as I hadn't learned about that yet. It would probably clear that up.)
When it comes to color rendering, it does a good job, as well as one can expect from instant print cameras.

Overall: ★★★★★
This camera is the clear winner for the price. It really allows you to do more with less.

That being said . . . I didn't like the photos as much as I liked the Polaroid's prints. There was just something about the size that didn't feel right. It's not something I can explain, so it most likely comes to an emotional attachment or nostalgia to the size of the Polaroid prints. The Fujifilm square prints are odd. While the Instax line of minis prints are familiar, like a business card, the SQ6 prints don't feel right in my hand. It's an odd place to be, because if I were to base it off enjoyment of the photos alone, I would pick the OneStep2. But as an overall experience (handling the camera, using it with the strap around my neck, finagling its size into normal activities) the SQ6 is the clear winner (aside from the right side viewfinder).

If you want to purchase, you can find great deals on Amazon here:

Polaroid OneStep2
Fujifilm Instax SQ6

So, while my conclusions were not exactly conclusive, I hope that my experiences and details help you to figure out which square format instant camera you would prefer. Which one would you buy?