There are a lot of reasons why you would pointed ears, and I don't just mean dressing like an elf. What about hobbits, tieflings, vampires, orcs, gnomes, and so much more?! Maybe it's just a fun way to spice up your DnD campaign. Of course, they also work for most elves, including the sort that bake cookies inside of a tree (seems like a safety violation but ok), assist Santa, or the fair folk of Rivendell.
Whenever I wear these ears, I get questions all the time about them. I thought it would be helpful to share with you how easy and cheap they are to use!
This post may contain affiliate links. For more on that, check here.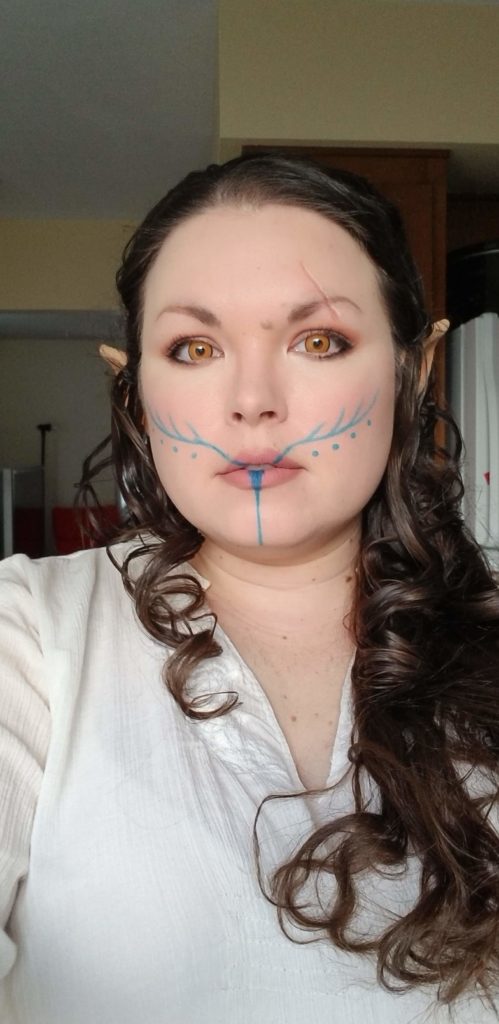 The first time I wore them, people were so curious. Many even asked if they could touch them! (That might seem weird to you non-cosplayer types, but being able to feel the texture of something is really important if you plan on wearing it for several hours.) They are soft, flexible, and very lightweight. After wearing them to Ren Faire for several hours, I was not at all sore or irritated in any way. (I do have sensitive skin.)
The ears I used to start with are the CHILD's size Legend of Zelda ears!
These ears are made of vinyl. While these ears are a pale flesh tone, you can paint or use makeup to change them to your needs. I'm making a (rather famous) blue Tiefling. Once I have them painted, I will update this post with more information on that. But keep in mind that since they are vinyl, you will need to use acrylic based paints for it to adhere.
Because they are also made for children, unless you are quite petite, you will need to do a little bit of (easy) modifications to get them to fit over your adult-sized ears. (And NO, I do NOT recommend the adult size! They are quite large and look comically huge. Unless you want comically huge.)
That's what they look like when they are all packaged up. Right out the package, they look this:
The pair below are the ones that I have slightly modified to better fit me. "But," you say, "I see no difference!" To that I say, continue on!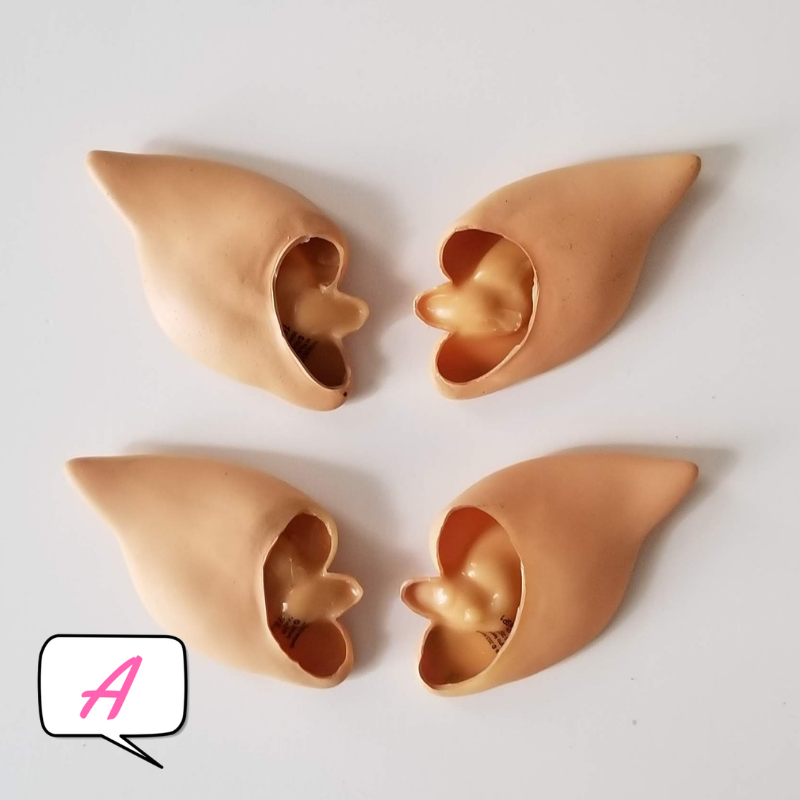 The top pair are the brand new ones I just got out of the box. If you look at the back, you can see a slight difference. On the modified pair, I used a small pair of curved beauty scissors to trim the vinyl to increase the height of the opening. Oddly, the width on the right ear of the new pair is quite wide, but that doesn't matter as much as getting the height correct. Always cut less than you think you need! You can always trim a bit more, but adding to it would be a huge pain.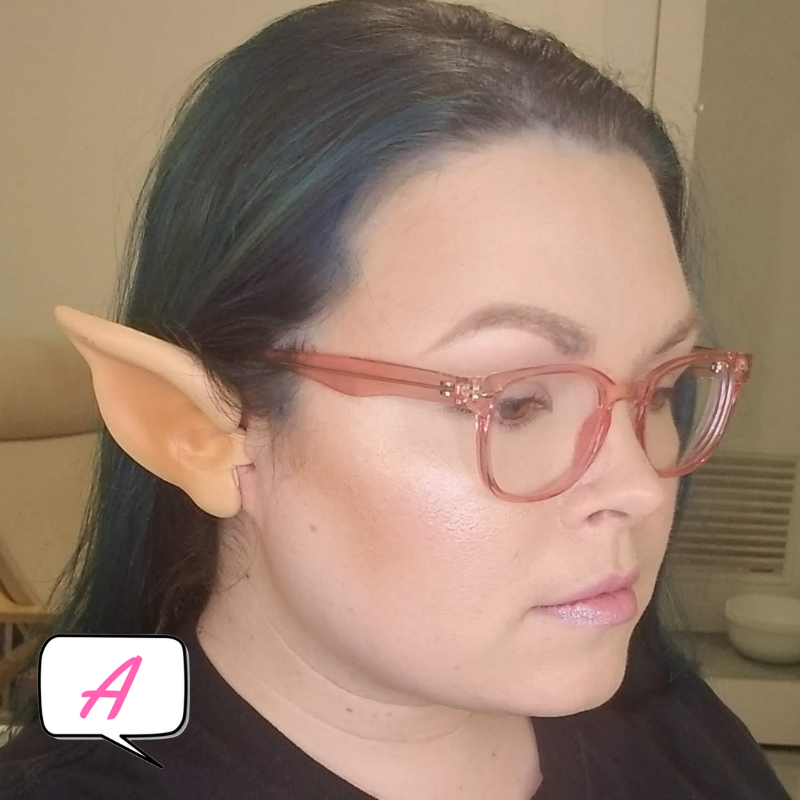 That little flap is important. It's what helps the ears stay on better. If you don't plan on having a small piece of hair in front of the ears, this might not be an option for you. But once the hair is in place . . .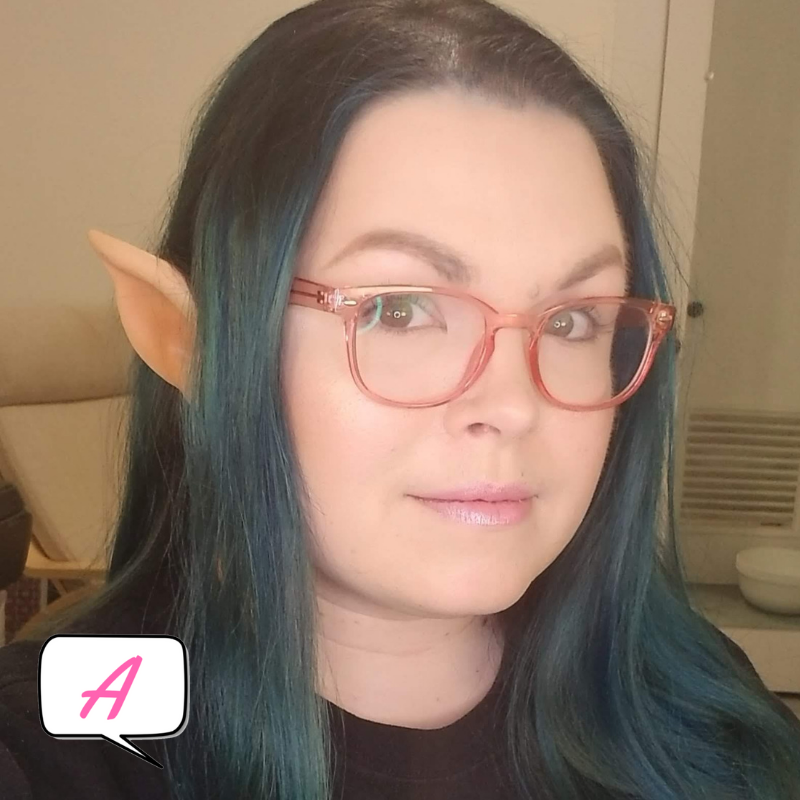 Ta-dah! Super easy, lightweight, and COMFORTABLE! I can even wear my glasses with them without any discomfort. They do cover the ear almost entirely, so while they do not obstruct your hearing, little things like your hair, glasses or hands that bump into the vinyl ears will be much louder. (Something to keep in mind if you have a headdress with hanging bits and bobs.)
So there you have it! Easy elf ears without glue, around $10, and comfortable, too. You can't get much better than that!

Here's the link again to buy them->https://amzn.to/2ItpUeo
Good luck!