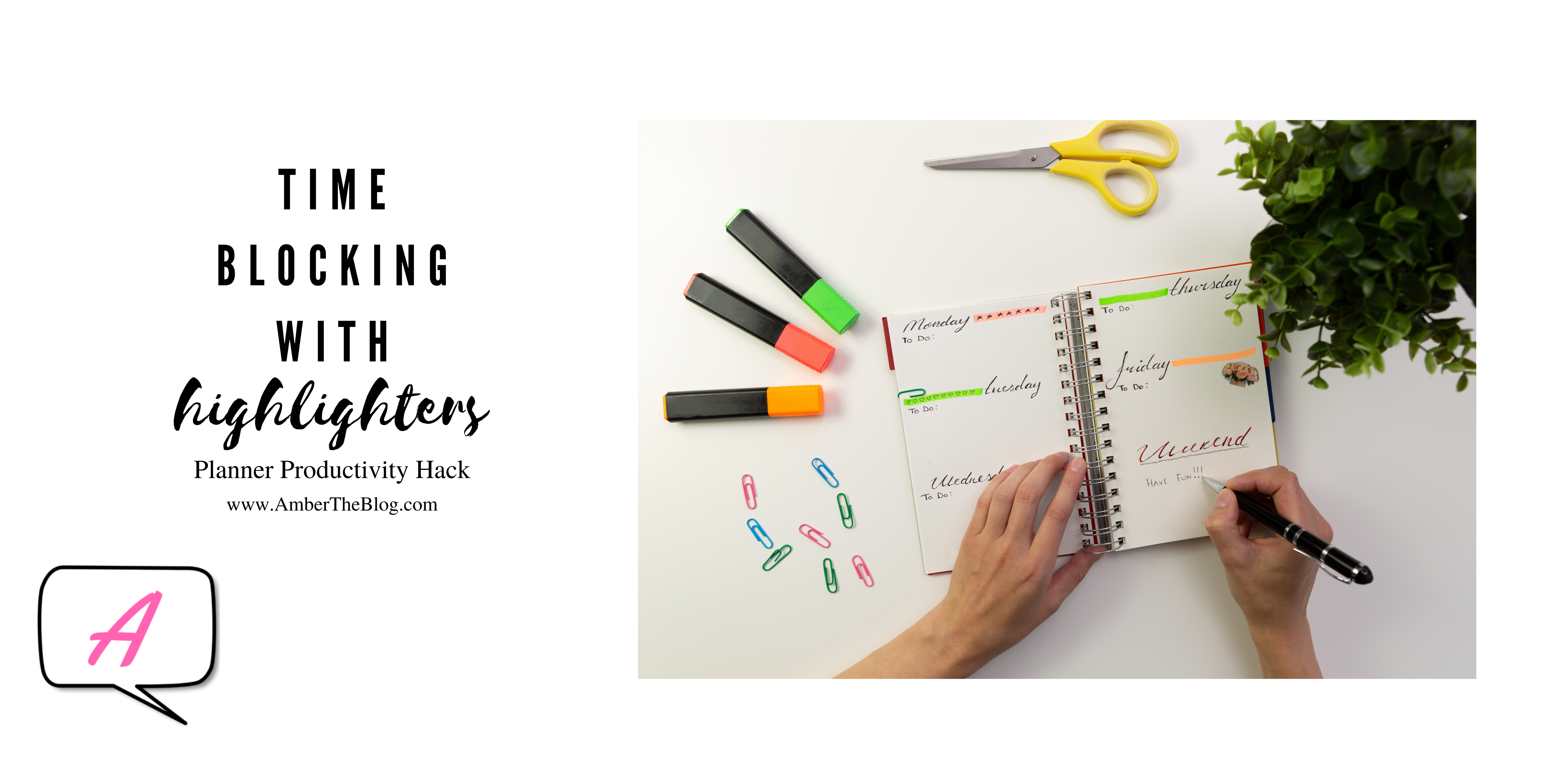 Raise your hand if you love using a planner.
Ok, now put it down.
Now raise your hand if you love the idea of using a planner but is seems super complicated and every time you try, it is great for like a month and then you just drop off the planner train, landing on your caboose.
Does that sound familiar? Me and my ADHD definitely have walked that path before. Overall, planning has really helped me when anxiety or ADHD see a task and MAGNIFY it to impossible proportions. And being able to look at my tasks at a glance and know what is expected of me helps both my anxiety and my ADHD a great deal. I can worry a lot less about forgetting things. I can lessen the overwhelm by seeing tasks I don't want to do (like dishes) next to things I enjoy (like crafts) and see that the dishes will take me half the time as my embroidery for the day. (YAY!)

This post may contain affiliate links. (Spoiler alert: it does.) For the legal jargon (and my personal stance on recommendations) click here.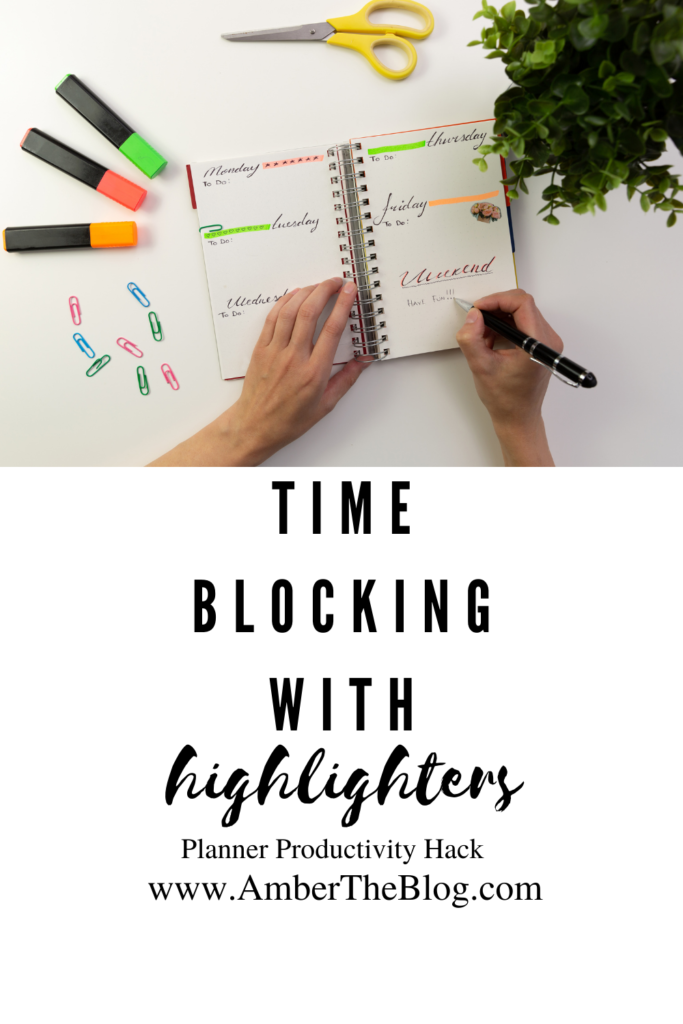 A friend introduced me to this concept about eight years ago, and ever since then, it has remained the one planner hack that I go back to every single time. In my planner, this is a non-negotiable!

This hack saved my anxiety and ADHD, plus helped me save so many hours a week!
First, you need to decide what categories you are going to put your activities under. It can be as many as you want. I tend to find five are what most people use. If you want to borrow my categories, you can save the image below, print it out, write it on a sticky note, or copy and paste it into your digital planner.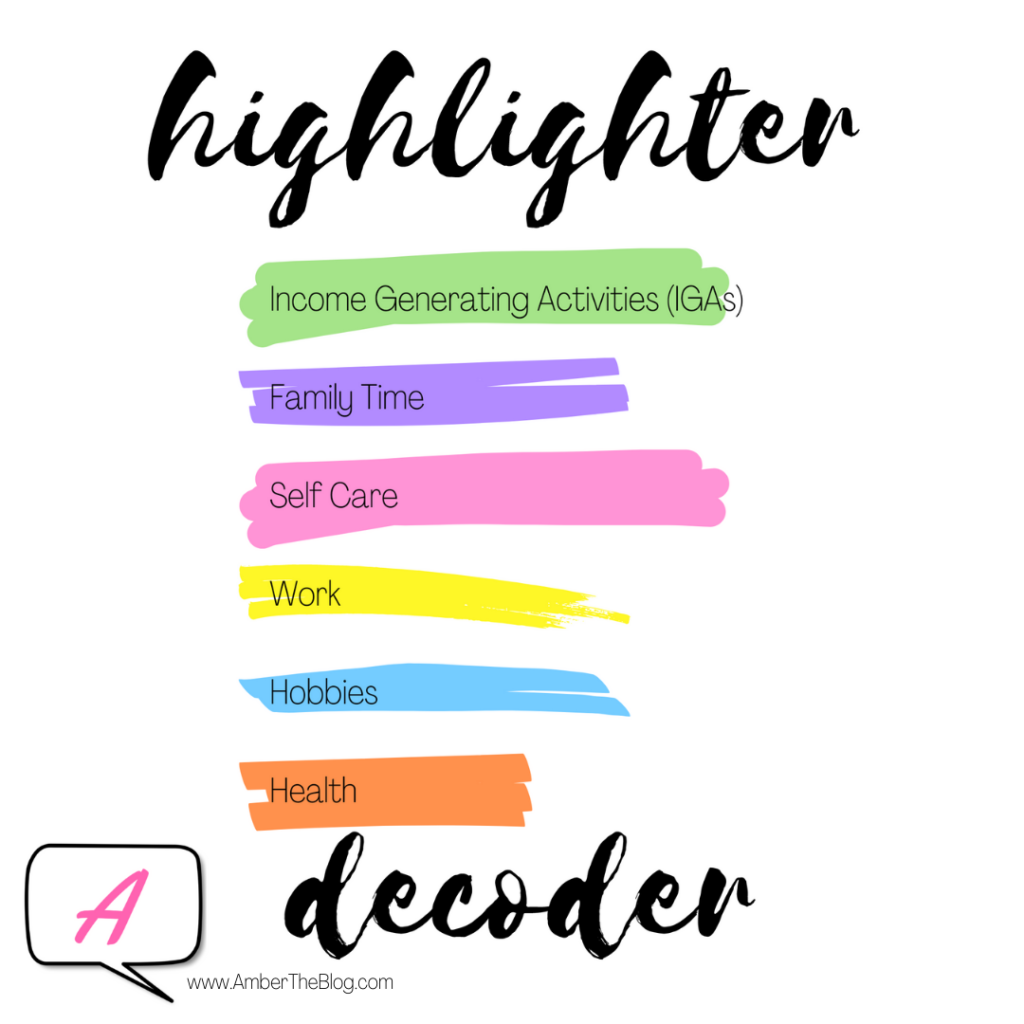 Income Generating Activities (IGAs) are any activity I do that contribute to my business. This could be designing a pin, scheduling posts, or designing something for my shop. You would have to decide how you want to use this if you don't have a side hustle.
Family time – this is time spent with the family! This could be everyone at the dinner table without devices or playing a game together. (May I suggest the latest Mario Party?) It is really important to add this onto your planner. Even if it moves around and you have to retro-actively highlight something in the past, I recommend it. That way, at a glance, you see what your weekly balance is like. Because this color tends to have the least amount of space in my planner, I also include things like doing my Bible reading or going to Bible study in this. I consider my church friends family, so this fits for me!
Self-care – these are things that are good for you, but aren't necessary to simply being a live. (At least, that's how I code it.) Things like doing my nails, getting a haircut, etc. If it's necessary to me not dyeing, I color it orange.
Work – if you have a job or volunteer on the reg, you can consider using this to mark out hours. Don't forget to include drive time as included hours when you're highlighting!
Hobbies – yay! This one is pretty self-explanatory. But basically, if you look forward to doing it, it's fun, and not necessary, it should go here. If you simply LOVE working in your garden, or even going to the gym, it should go here.
Health – I mark everything from cooking, eating, exercise, to medical appointments here. I even include my shower time!
So how does this help you save time or manage anxiety or ADHD?
Well, firstly, I can't claim it will do any of those things for you. I can, however, attest that it has made a big difference for me and my individual needs. I tend to get anxious when I worry about having enough time to get things done, worrying that I forgot something important, or in general getting discouraged when I look at a generic To-Do list that seems big enough to bury me alive. And it turns out that worrying and redoing a task five times (ADHD yaaay) wastes a LOT OF TIME. If your needs and challenges are similar to mine, give it a try! I've heard from a lot of people even without my particular challenges that this method helped them a great deal.
How to Plan
With the color coding system, I like to add a week at a time on a weekly spread. For things like doctors appointments or set dates, I use the monthly spread, and then just add the appointments to my week when I get there. Things changes so often, so I don't like to write things down in my weekly spread until I'm about to start that week.
WHICH BRINGS ME TO SOMETHING VERY IMPORTANT. Use pencil, erasable gel pens (there are also super cute ones, too), or go entirely digital, like I've recently done. Pen is a NO-NO! If there's one thing that irritates me to the point of not being able to concentrate, it's an illegible planner. You might also want some white out tape, which I prefer, because you don't have to wait for it to dry! Simply drag it over your mistake and get back to working. Nice!
Once you have your basics penciled in, start with highlighting! Then once you have everything colored, you can now see at a glance if you have an imbalance. Did you not schedule enough family time this week? Is it something you can adjust, or is it something to amend next week? Too many green slots and not enough orange? You can fix that, too!
And that's it! This little trick has saved me so much time and greatly lessened my mental load.
Have you tried this? Or maybe something similar? What works for you? Let me know in the comments!
Happy planning!