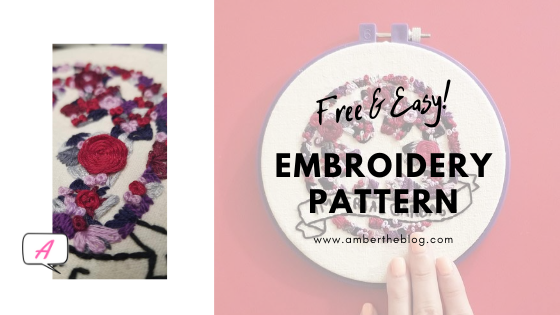 Hello, all! I'm back with another fun, beginner friendly embroidery pattern that is floral, fun, and quick to whip up!
It's for beginners or long time stitchers.
Just starting out? No problem! Just take the embroidery floss as is, thread it through your needle, and start stitching. I recommend a booklet of basic stitches kept handy or a youtube video, just in case. Ready to tackle something more challenging? Substitute some bullion knots. Make your thread only three strands. Use a different font. Go all out! It's YOUR piece so have fun with it!
In the example above, I've used the following stitches, all with 6-strand floss:
Wagon wheel
Modified wagon wheel
Daisy chain
French knot
Herringbone
Straight
Chain
This post may contain affiliate links. (Spoiler alert: it does.) For the legal jargon (and my personal stance on recommendations) click here. 
This pattern is easy. It uses a few stitches and any can be substituted for something else you prefer. If you're a stickler for sticking to a pattern, I've even included the DMC embroidery color numbers so you can replicate it. But if you want to get creative, I've got a bunch of my favorite color palettes on my pinterest board here to get you inspired for something with your own flavor! I tend to prefer complimentary colors or double split complimentary colors. Pro tip: keep a small color wheel in your purse or save an image handily on your phone to help in picking out colors. The one I usually use is this one here. It's small and can even fit in a comfy pocket if you're purse averse like myself.
If that's too complicated, just be sure to have my Color Palettes board pulled up on your mobile phone for easy reference.
How to use it
You can put this pattern on pretty much anything! Enlarge it and put it on a throw pillow. Shrink it down and put it on a shirt pocket or handkerchief. Decorate the front of an apron or a tea towel for a perfect gift. You could even decorate your most comfortable reusable mask, like Carissa did with the Rebel pattern. (SO CUTE!)
What you need
First things first, you're going to want an embroidery hoop. I prefer bright, happy colorful hoops! I never know what sort of project I'm going to be into next, so having a variety of sizes and colors let's my imagination run wild. I like this set of hoops for the variety of color and sizes.
You'll also love yourself for making your life so much easier with a needle minder. A needle minder is a small magnetic tool that attaches to your work, giving you a secure and visible place to put your needle while in the middle of stitching. No more dropped thread! No more missing needle! And, more importantly, no more finding it with an unfortunate part of your body.
Another lifesaver is Thread Magic. Thread Magic is a thread conditioner that helps eliminate static, lessens tangles or knots, and reduces drag to make your work go by much faster. It's a huge boost to my projects and has definitely improved my emotional state while working. (Have you ever been foiled – repeatedly – by your thread insisting on bunching itself up into incurable knots??? It's not healthy for your heart.) I can usually find Thread Magic at my local craft store, such as Michael's, Hobby Lobby, or Jo-Ann's. But if it is out of stock or hard to find, I've got a handy link for you right here.
Aside from those quality of life improvements, you'll also require the following:
(Your fabric choice is really up to you! I usually go to the thrift stores and craft stores and peruse the remnants. You'll want to wash whatever your fabric is before you start. That way, if the fabric decides to warp after you hand wash your embroidery, your hard work won't be distorted. I like Mrs. Meyers because it's gentle, perfect for my allergies, and doesn't abuse my skin when I hand wash! Plus, it smells AMAZING.)
And of course, don't forget the free pattern!
Did you work up this pattern? Be sure to tag me on Instagram so I can see your lovely creations!